Fresh Angus Beef directly from our farm to your table

---
COLE

ANGUSBeef Prices
Grass-fed beef: 
Half $5.75 per/lb per half hanging weight. $5.75 per/lb per quarter hanging weight.
Premium Ground beef: 
$5.50 per/lb
Grain-fed beef: 
Half $5.50 per/lb hanging weight
Quarter $5.50 per/lb hanging weight.
Not sure what Hanging weight is? Please see below
Prices are subject to change

---
Hanging weight
This is the weight that the butcher gives us after the animal has been taken back to the butcher shop to hang. The weight difference from live to hanging is from loss of blood, head, hide, hooves, viscera, lungs and heart. The hanging weight is usually about 50% of the live weight.
So, a 1000 lbs animal would have a hanging weight of 500 lbs (estimated). (A Half share would then be 250 lbs, and a Quarter would be 125 lbs). 
COLE

ANGUSBeef
We provide custom beef processing for each customer. You specify how you want your beef prepared and packaged to the butcher. This means we don't maintain a supply of meat and all orders are subject to available animals ready for processing.
We take orders in advance of processing for the type beef you request subject to availability. There's a non-refundable deposit of $200.00 with your order agreement. At that time we will estimate the delivery date, estimated total cost. The balance due will be calculated upon the hanging weight being known and we will be able to estimate the date you should receive the completed product.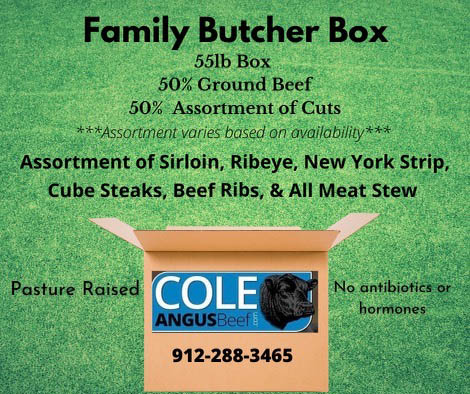 ---
You have a choice
We think you should know the on sin of your food, how it was raised, and the quality of food sources used in its production – In addition to this when buying your beef directly from Cole Angus Beef you have confidence that the cattle were raised according to the "Best Quality Assurance Guidelines"